News
Testimonials
Contact

 David Brown
  Owner, Triad Defense
  505-814-4128
Triad Defense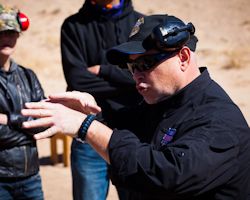 Triad Defense provides expert training in the use of firearms and personal defense. Classes are available for individuals seeking to sharpen their existing defensive skills, earn State of New Mexico Concealed Carry Certification or to become certified as a New Mexico security guard at Levels 1, 2, and 3. Training may be tailored to private individuals or provided on a corporate level.
Upcoming Classes:
Upcoming Schedule: Any type of training offered by Triad Defense may be scheduled independently of the pre-scheduled monthly classes that are listed on the calendar of events. Urban Awareness Self-Defense Training is tailored to the individual requirements and may be scheduled on a private/semi-private basis. Exigent corporate, or private client requirements, for CCW requalification, or advanced security guard training, may be accommodated based on the individual's schedule. Triad Defense has access to firearm ranges and classroom facilities, seven days a week. Corporate discounts are available.
To register for training please click on this link to view calendar, select the first date of the course you want and follow the instructions to register. Please call (505) 814-4128 with any questions.
CCW and Level 2 and 3 Security Guard Certification training may be scheduled based on agency and private requirements. Please call to schedule a class.
Additional Career Skills Training
Why Triad?
Highly experienced and dedicated instructor:
Triad Defense's primary instructor David Brown is a decorated, retired police officer and military veteran with a total of 32 years serving this country. His investigative background and experience training police as well as Probation Parole Officers to handle contentious interactions brings a unique depth to Triad's training.


Detailed, scenario-based curriculum:
Triad training is fundamentally based on exposure to real world situations thereby honing decision making. Knowing when to talk is just as important as knowing what should be said. Knowing when to take physical action is just as important as knowing your physical capabilities. Knowing when to shoot is just as critical as knowing how to shoot.


Unique conflict resolution techniques:
David Brown developed a specific system of Verbal de-escalation known as Verbal Diplomacy: Critical Communication Assessments, for the New Mexico Department of Corrections Probation and Parole. Learning this style of conflict resolution makes Triad an excellent choice for the clients interested in developing defensive skills on all levels.


Progressive training:
Instructors for Triad Defense must continually attend recertification training as well as continuing education in order to provide training certified by the NRA, Private Investigator Licensing Board, NM Criminal Investigations Division, and the NM Law Enforcement Academy, thereby placing Triad in a position to provide some of the finest, most progressive training available.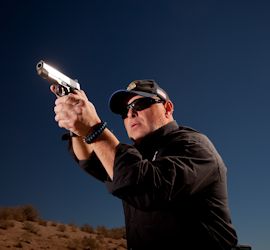 As founder of the Four Winds Martial Arts Academy and Triad Defense, I am committed to perpetuating a career-long history of uncompromising work ethic, in dedication to service to our country and local communities, by continuing to provide training of the highest quality in the fields of personal protection, public safety, law enforcement and the preservation of martial disciplines.
---