News
Apr 3, 2018
Triad Defense is in the News!
Click here to see David Brown discuss specialized guard training for schools on KOB.
Testimonials
Contact

 David Brown
  Owner, Triad Defense
  505-814-4128
Troy Dunn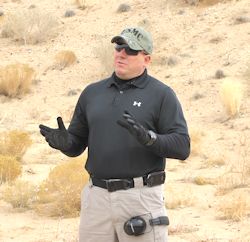 Troy currently serves the in the private security industry as a director of operations for a New Mexico owned company.  With over 18 years of experience in the security field Troy still maintains a heavy involvement in field operations and training, often teaching classes for his officers in use of force, situational awareness, tactics, firearms, building clearing, alarm response, and threat assessment.
Security Achievements
TASER Instructor since 2009
NRA Law Enforcement Firearms Instructor – Handgun & Shotgun since 2009
FEMA - Emergency Management Institute – IS-00100, IS-00200.a, IS-00700.a, IS-00800, IS-907
American red Cross First Aid/CPR/AED & Blood borne Pathogens Instructor – since 2011
Understanding & planning for School Bomb Incidents – New Mexico Tech 2011
New Mexico Gang Task Force Seminar 2013
True Lies Detecting Deceivers – Code 4 2013
Licensed Level 3 Security Officer - NM Bureau of Private Investigators
Active shooter training with multiple law enforcement agencies
1993 Certified as a Monadnok PR-24 Basic instructor thru New Mexico Department of Public Safety
Military Achievements
U.S. Marine Corps service                                                                  1983 – 1986
Served a 15 month tour Marine Barracks, Subic Bay, Philippines as Sentry, Assistant Patrol Leader, Dispatch Weapons Custodian, Corporal of the Guard, & Squad Leader. 
MOS - infantry machine gunner (M60)
Recommended twice for meritorious promotion
Assistant Patrol Leader of one of the few Jungle patrols to capture trespassers in U.S. Naval Ammunition Magazine areas, in Subic Bay Philippines.
Trained as a pistol shooting coach to help qualify fellow military personnel.
Qualified expert rifle marksman, sharpshooter pistol marksman, 1st class machine gunner.
Graduated 2nd in class of weapons platoon Infantry Training School, Camp Pendleton
Assigned as Corporal of the Guard, Subic Bay, while still holding rank of Private First Class.
Jungle Environment Survival Training (JEST) school
Marine Corps Institute courses of study: M60 machinegun, basic rifleman, Non-Commissioned Officer leadership, guerilla warfare.
---